A look at the all new Ford Ecosport
This year Ford has something new to bring to the market: their Ford EcoSport. This compact SUV has been seen around the world, but we are finally getting a chance to see it in action here in the United States. This will be Ford's latest entry into the subcompact SUV world, going against the KIA Soul and the Jeep Renegade. Is it up for the challenge?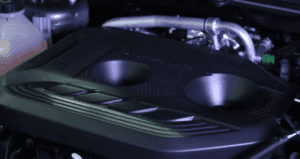 Power with comfort
Coming standard with a 1.0 Turbocharged 3 cylinder engine getting a solid 27 mpg city and 29 mpg highway it gets exceptional gas mileage for the market. If you upgrade to the 2.0 Ti- VCT 4 cylinder engine you also get all wheel drive capability making it a formidable vehicle in the snow. Not only that but, it comes with a lot of extra technology with the standard model for $19,995. This technology is Ford's Blind Spot Information System (BLIS), which assists the driver when switching lanes or turning around cars that are in the vehicle's actual blind spot making it safer for the driver and passengers.
There is also the MyKey technology: designed for the parent in mind. MyKey gives parents the ability to set the speed that the EcoSport can top out at along with set how loud the audio from the car's gps and radio can be. This all helps promote safer driving. Even better than that is the EcoSport's auto start and stop, this will turn the engine on and off at stop lights or if you are stuck in bumper to bumper traffic.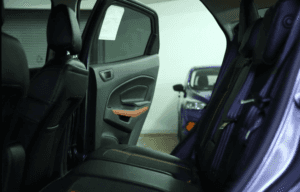 Plenty of room in here.
With all this in mind who really gets the most bang for their buck if they buy this SUV? Well, first let's start with drivers. Your 16 year old just passed their drivers test and what better way to continue to promote safe driving than having the MyKey technology where the parent can set limits for their child? This will ensure that the child won't go over the designated speed limit in your area.
This also rolls over into new college students, just getting into college and seeing new places having a car there will open up the freedom of late nights out with friends eating pizza. It also helps that the Ecosport's capacity is great with fold down seating and a swinging trunk door for ease of access.The EcoSport even works well for the everyday commuter. With a mpg of 27 city and 29 highway you won't find much better for an SUV. The auto start and stop technology will also help you keep fuel consumption to a minimum saving you money at the fuel pump.
There is also the ability for company vehicles with this SUV. The auto start and stop technology to help cut costs on fuel costs, MyKey technology to prevent employees from speeding and the BLIS technology to create a safe driving experience for the driver and everyone around them. Last but not least, advantages come for anyone living in a cold climate. The EcoSport can come with a cold weather package with heated steering wheel and de-icing wiper blades. These added with the 2.0 Ti engine with all wheel drive and you have yourself a great SUV in the slippery conditions of Western New York.

Leading the way.
Overall, with Ford coming a bit late to the game in the compact SUV market they came with a great contender and with a price that can't be beat. Great technology for many first drivers and even better with having an all wheel drive option. Combine that with the fuel mileage and space that is offered by this SUV, I wouldn't be surprised if we see a lot of them on the roads this coming summer.
Want to know more? Check out this video: Ford Ecosport Walkaround