Top 5 Affordable Sports Cars
We all have that dream of driving down the 33 or the Buffalo Skyway in our two door sports car with the top down just enjoying the spring breeze and summer sun. But, unfortunately for most of us when we hear sports car we think money, and lots of it. Every year, there seems to be another excuse about why we can't make our inner teenager happy and drive that dream car. Now, what if I could tell you that we can make that dream a reality? Obviously, not everyone can afford a Lamborghini or a Ferrari, but there are alternative options at a much lower price and you'll enjoy the ride just as much.
Nissan 370z
At number five we have the drift car from Japan, the Nissan 370z. This car is the most expensive on this list, which MSRPs at $29,990 but it is the most affordable in its class because what it lacks in affordability it tops out in speed and aftermarket parts. This car is known for its sleek, aggressive style, and stance on the road. It has also become a favorite with the drift community for its short body length that allows it to take turns at high speeds better than regular coupes these days. This car also does not lack in speed. Its 3.7 L V6 engine that produces 332 horsepower, this car is already meant for the race track.
Subaru BRZ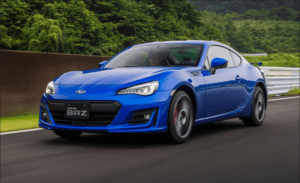 Toyota 86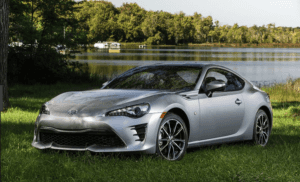 Number four we have a tie with the Subaru BRZ and the Toyota 86. The reason for these two being a tie is that both of these cars were a joint effort to create. Subaru and Toyota / Scion joined forces to create a new sports car using the new 4-cylinder Boxer engine that Subaru created. These are excellent cars for their price, $26,255 for the 86 and $25,595 for the BRZ, for the base models. But, for that price you get quite a lot. The car produces 205 Horsepower which is decent considering its 4-cylinder engine size. Plus, it has a flat engine, meaning it can sit lower to the ground giving it better handling when taking turns. With aftermarket parts you can lower it even further. Its small body also helps with handling even on the road. It also has a unique style compared to the rest of the cars on this list as it looks like a sports car; it has a look that demands other cars to challenge it. As for how much fuel mileage it gets, its 24 city and 33 highway.
The Mazda MX-5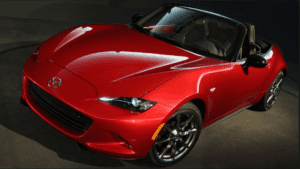 Moving on we have number three the Mazda MX-5. Coming in at $24,915, it is one of the cheapest on this list without sacrificing too much. This being a proven design by Mazda, they have yet to show any signs of leaving the sports car field. With an overall 155 Horsepower this is the little car that replaced its previous brothers the RX-7 and the RX-8. Its lightweight and small size help its speed by making up for its engine size and power. It gets great gas mileage, 26 city and 35 highway plus you can get this as a convertible for those really nice days out in the sun.
Fiat Spider 124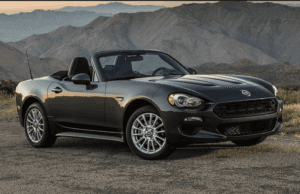 The number two slot goes to Fiat with their 124 Spider. Coming late to the sport car industry but they are coming in with a great competitor. Fiat, knowing the Mazda Miata was the number one selling sports car in America for the longest time, are looking to take that title over with this car. Coming in at $24,995, it is more expensive than the MX-5 but that extra money gets you some extra power. The 124 comes with a 1.4L turbocharged 4-cylinder engine producing 160 horsepower engine. This engine is also has a twin intercooler helping it run and even has a button for fresh air induction. Meaning that more air is pushed into the engine which in turn produces more power overall. It has the same fuel mileage as the MX-5 as well. It has a nice but elegant interior and the outside looks like an Aston Martin so you can feel like James Bond driving down the road. This is also a convertible if you would like it to so you can impress everyone you drive by.
Honda Civic Si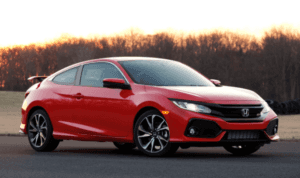 Finally, the number one slot goes to the Honda Civic Si Coupe, coming in at $24,100. Now, before everyone starts yelling saying that it isn't a sports car or that they have a better idea for the number one slot hear me out. The Civic Si itself comes with a 1.5L 4-cylinder engine producing 205 horsepower which is on par with the Subaru BRZ and Toyota 86 at around $1,000+ cheaper. Honda came and conquered this market with the Civic Si. Forget about the Hondas that have the over sized exhaust pipe on the end, this car has some style to it. For starters, it looks aggressive and it still is an eye catcher considering it still is a Civic. This car has superb fuel mileage compared to the other cars on this list, 28 city and 38 highway so you are guaranteed the best value overall in gas. Maintenance will be cheap as well since there are an abundance of aftermarket parts. It's also a Honda so most shops can work on it for a low price. It also sports an inline four engine. The reason I bring this up is that these engines have been known to be nearly indestructible. You can push them till you get tired of it and they will still run.
Subaru WRX STI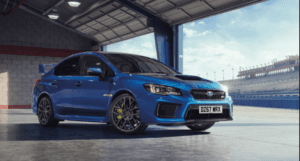 VW Golf GTI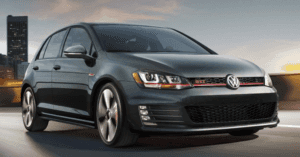 Ford Focus RS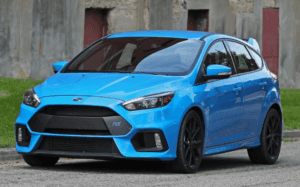 Now, this list was only coupes with the idea a sports car is a two-seat car with style and speed supporting it. But, some runner ups for this list were the Ford Focus RS, the Volkswagen Golf GTI, and the Subaru WRX. All of these are four door cars but are considered sports cars in the industry.
If you are thinking of buying one of these check out: basilcars