5 Best AWD Cars for Gas Mileage in 2023

It's no secret that driving in harsh weather conditions such as a blizzard during the winter or a thunderstorm in the summer can be challenging for all types of drivers. Having additional control when the road surfaces turn slippery can make all the difference when it comes to confidence behind the wheel. Even in dry conditions, choosing a vehicle that's equipped with all-wheel drive (AWD) can offer significant benefits compared to a two-wheel drive vehicle. Whether you're looking for a sedan, SUV, pickup truck, or minivan — our team at Basil Family Dealerships has assembled our top picks for the most fuel-efficient vehicles available with all-wheel drive.
What's the Difference Between All-Wheel Drive and Four-Wheel Drive?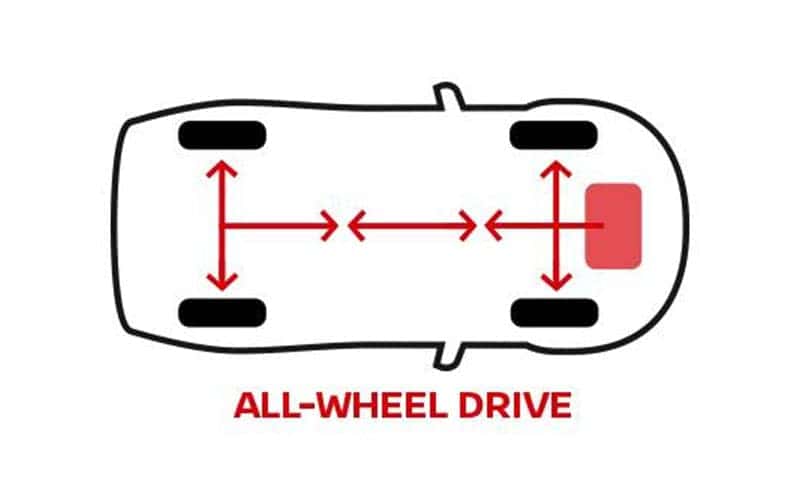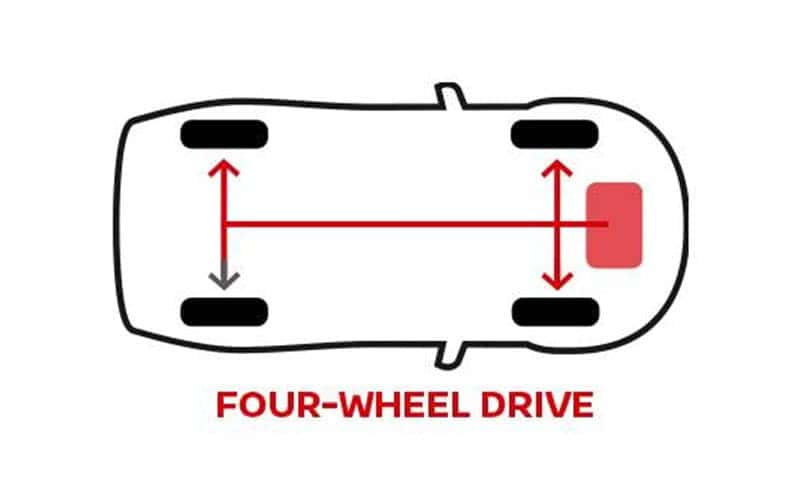 While it's certainly easy to get them confused, all-wheel drive and four-wheel drive have several differences in how they operate and often in the types of vehicles equipped with them. AWD models feature a drivetrain that includes a front, rear, and center differential which distributes power to all four wheels of a vehicle. Conversely, 4WD models use two differentials and a transfer case to power all four wheels. While there are some exceptions, a general way to remember the difference is that AWD is usually always on and 4WD usually only powers all four wheels when activated.
All-wheel drive is typically found on sedans, crossovers, and SUVs. Dedicated 4WD systems are often found on pickup trucks and SUVs. Also known as 4X4, 4WD systems are often available in both part-time and full-time configurations.
Benefits of AWD/4WD
Greater Control/Capability – Easily the number one advantage of an AWD or 4WD vehicle is the enhanced stability, control, and performance from extra traction. While FWD or RWD vehicles will slip and slide on icy or wet surfaces, you'll have the ability to continue on with confidence.
Resale Value – Although they typically do cost more upfront than 2WD models, all-wheel drive vehicles generally offer greater resale value due to their added capabilities. Especially in snowy climates like New York, you most likely won't have to worry about resale value.
---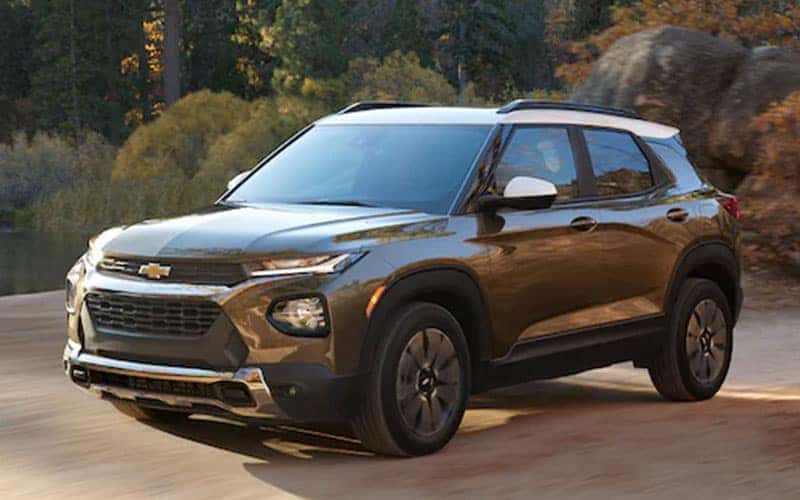 Chevrolet Trailblazer
Trailblazer AWD EPA-Estimated MPG – Up to 26 City / 30 Highway / 28 Combined
Rugged, versatile, and youthful are just three ways to describe the athletic Chevrolet Trailblazer. The Trailblazer is available with Chevrolet selectable AWD which is also found on its larger Blazer and Traverse siblings. Giving you flexibility, this system allows you to decide whether to activate the AWD system in off-road or inclement weather situations or to deactivate when AWD performance is not required in an effort to boost improved fuel economy. AWD also features specialized calibrations for more rear-wheel torque at lower speeds to improve the driving experience on moderately steep and unpaved surfaces. For the ultimate off-road look, the available ACTIV trim package includes a two-tone roof, unique front and rear fascia, dual exhaust, sport terrain tires, and suspension tuning enhancements.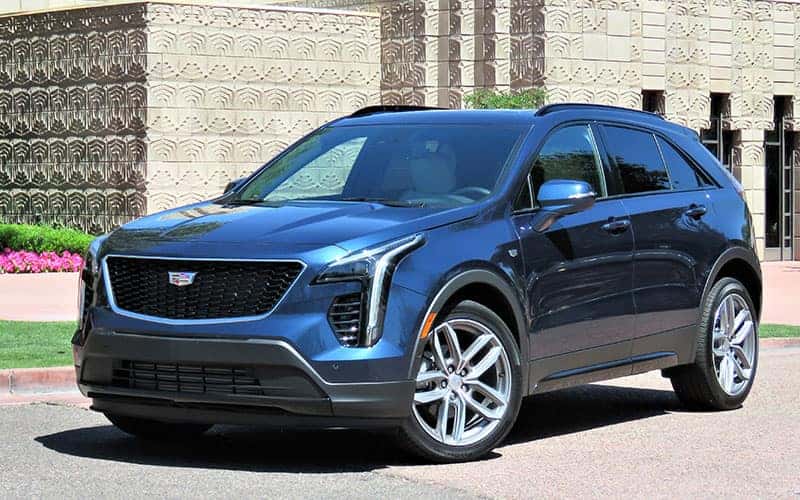 Cadillac XT4
XT4 AWD EPA-Estimated MPG – Up to 22 City / 29 Highway / 24 Combined
Already a leader among compact luxury crossovers, the impressive Cadillac XT4 also stands out for its capable yet fuel-efficient all-wheel drive system. Available across the model range, this sophisticated twin-clutch AWD system offers superior control by distributing torque to the wheels that need it the most. Offering performance in both wet and dry conditions, the XT4 continues to excel thanks to its 9-speed automatic transmission for a smooth and efficient ride. Custom-tailor the characteristics of your XT4 to suit your preferences with selectable driving modes that can adjust accelerator pedal mapping, transmission shift points, and steering effort. There's also an available Active Sport Suspension to help you enjoy an added dose of exhilaration on your daily drive. Comfortable, confident, and stylish — the Cadillac XT4 is the perfect companion for those searching for added capability in their luxury crossover.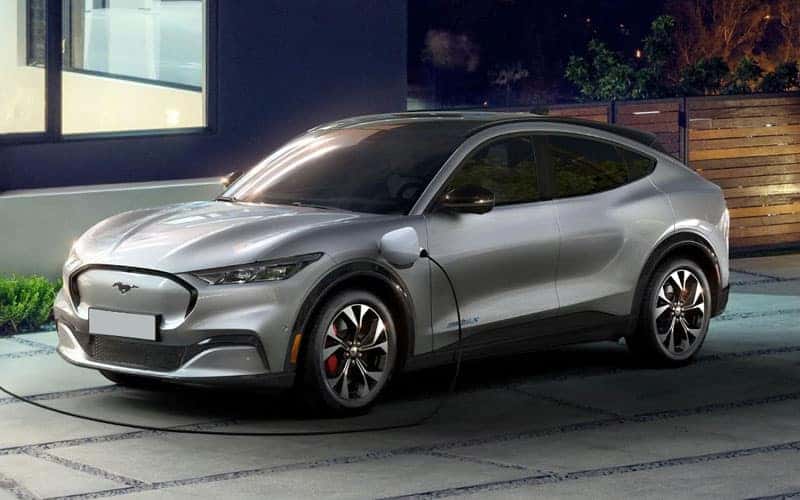 Ford Mustang Mach-E
Mustang Mach-E AWD EPA-Estimated Range – 277 Miles (targeted)
While you're probably familiar with the iconic Mustang nameplate, Ford would like to introduce you to the most thrilling electrified member of the model lineup — the all-electric Mustang Mach-E. This groundbreaking EV is designed with the same exciting features which have made the Mustang a hit with drivers across the globe. Every Mach-E is infused with rebellious spirit, potent performance, and passionate styling. Drivers will have their choice of two powertrains including an all-wheel drive variant. For the ultimate flexibility, you'll also have the ability to charge quickly with DC fast charging stations or enjoy the convenience of an on-board Ford mobile charger. Advanced infotainment technologies, customizable drive modes, and a truly innovative driving experience highlight the strengths of the dynamic Ford Mustang Mach-E.
Toyota Camry
Camry AWD EPA-Estimated MPG – Up to 25 City / 34 Highway / 29 Combined
Already recognized globally as one of the best-selling nameplates in automotive history, the Toyota Camry bolsters its award-winning legacy even further with the addition of all-wheel drive. No matter what Mother Nature has in store for your plans, the available Camry all-wheel drive system is engineered to help you take on wet roads, snowy roads, gravel roads, and more. In the event that the vehicle detects any loss of traction up front, the AWD system can direct up to 50% of engine torque to the rear wheels for added stability. When paired to the available 2.5-liter engine and close-ratio 8-speed automatic transmission, the Camry AWD proves that you no longer have to sacrifice on fuel economy to enjoy all of the benefits associated with an all-wheel drive sedan.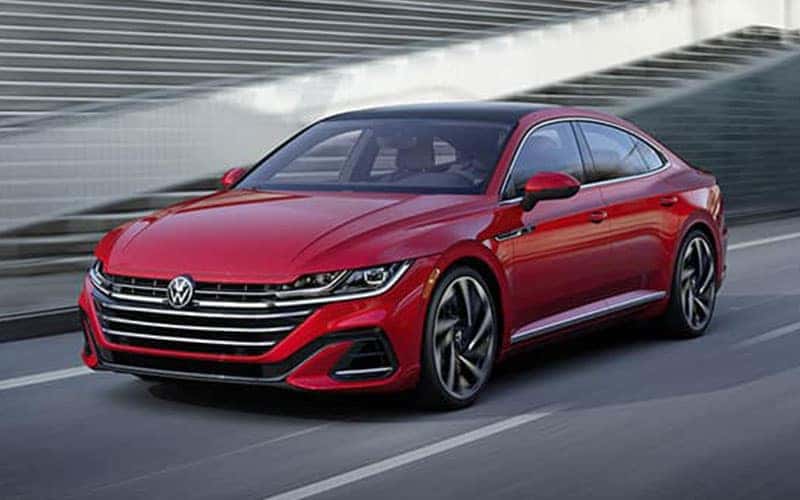 Volkswagen Arteon
Arteon AWD EPA-Estimated MPG – Up to 22 City / 31 Highway / 25 Combined
Searching for a stylish, sophisticated, and sport-focused sedan that's packed with cutting-edge tech and potent performance? Look no further than the seductive Volkswagen Arteon. In addition to its turbocharged engine, the Arteon is also available with the legendary Volkswagen 4MOTION all-wheel drive system. As conditions change, 4MOTION directs power between the front and rear wheels as needed to help optimize traction and stability. When the pavement is dry, its XDS® Cross Differential System helps to maintain power to the outside wheels and improve turning performance. Even with this advanced engineering, the Arteon is still able to achieve up to 31 MPG highway fuel economy to help you spend less time and money at the pump. Truly in a class of its own, it's easy to see why more and more drivers are choosing the Volkswagen Arteon over the competition.