Basil How-To's: How to Do an Oil Change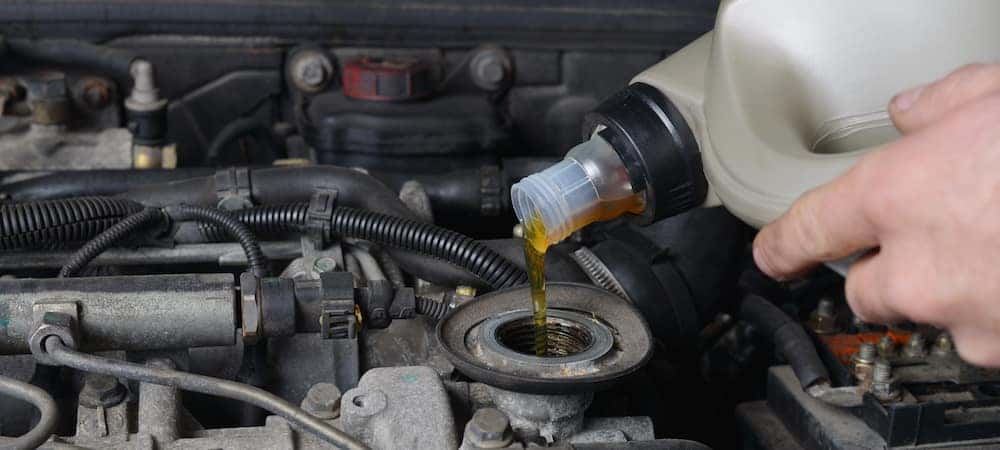 Looking for a fast, professional oil change in the Buffalo, NY area? The expert service technicians at each of the Basil Family Dealerships have got you covered. Regular oil changes help to keep your vehicle running smoothly and safely and will improve performance and fuel efficiency while extending the life of your engine!
How Often Should You Change Your Engine Oil?
The rule used to be that a car's oil should be changed every 3,000 miles, but with advancements in oil and engine technology, most new cars today can be driven between 7,500 and 10,000 miles before requiring an oil change. Still, the best way to find out exactly how often your specific vehicle should have its oil changed is to consult your owner's manual.
Certain driving conditions can affect how often your oil needs to be changed. If you're driving off-road, racing, or doing any heavy towing, your oil may need to be changed more frequently. Visit one of our Basil Service Centers, and our certified service techs can help you determine what your oil change schedule should be. You can count on a Basil oil change to be completed in a timely manner, so you can get safely back on the road in Lockport or Orchard Park.
How to Change the Oil in Your Car
Having the oil changed in your car, truck, or SUV is one of the most common vehicle maintenance services, and it's also one of the most important! While performing an oil change may sound like an intimidating task for some, it's actually a lot easier than you may think.
In this segment of Basil How-To's, we headed over to our Ford store on Walden Avenue and had one of our techs show us the proper way to do an oil change.
Video Transcription:
First, pop the hood and remove the oil cap in your engine bay.
Lift car using the proper jack points. These can be found in your owner's manual.
Once your car is securely lifted, slide underneath, and locate the screws holding on your car's belly pan.
Remove these screws and keep them in a safe place.
Once the underside of the engine is exposed, locate your oil pan drain plug.
Slowly remove the plug. Once the plug is fully removed the oil will drain out.
Once all of the oil is gone, locate your oil filter.
Using an oil filter wrench, loosen the filter. Once the seal is broken you should be able to remove it by hand. Use caution as more oil may release as the filter is removed.
Grab your new filter, and use some of the old oil to lubricate the new filter. By doing this, it allows for it to come off easier when performing the next oil change.
Now that the work on the underside is done, you can fasten the belly pan back onto the car.
Lower your car from the jacks, and get the new oil ready.
Trust Basil Family Dealerships for Your Next Oil Change in Buffalo
For those who'd rather trust a professional with their next oil change, we're here to help! Visit any of our locations in Western New York, or contact us to schedule your next service today.
Recent News from Basil Family Dealerships
Whether you're in search of the ultimate in efficiency or the thrill of instantaneous acceleration, electric vehicles have rapidly exploded in popularity in recent years. More and more manufacturers have joined the segment, ranging from mainstream to luxury brands. This influx of new models has made any EV buying decision much more difficult. Fortunately, our…

I was originally going to write this blog solely about the return of the Volkswagen Bus, scheduled for production in 2022. It's an all-electric vehicle, and as an electric vehicle driver, I was intrigued. However, I quickly learned that the new VW Bus will be built on what is called the Modular Electric Drive platform….

When it comes to pure driving pleasure, there's simply no better way to enjoy the open road than with a sports car. Sports cars combine race-inspired performance and exhilaration with seductive good looks that no other type of vehicle can match. If you've always dreamed of owning a sports car but never thought it would…