Best Electric Cars for 2022

Whether you're in search of the ultimate in efficiency or the thrill of instantaneous acceleration, electric vehicles have rapidly exploded in popularity in recent years. More and more manufacturers have joined the segment, ranging from mainstream to luxury brands. This influx of new models has made any EV buying decision much more difficult. Fortunately, our team Basil Family Dealerships has assembled this in-depth EV buying guide which names our choices for the best electric cars for 2022.
2022 Chevrolet Bolt
Starting at $31,500 MSRP*
Battery Range: 259 Miles | MPGe Combined: 118
Proving that driving an all-electric vehicle doesn't mean sacrificing on versatility, fun, or space — the award-winning Chevrolet Bolt is ready to take your adventures further than ever before. Performance highlights include the ability to rocket from 0 to 60 MPH in just 6.5 seconds while still providing up to 259 miles of range and a 120 MPGe fuel economy rating. Inside the cabin, you'll have room for up to 5 along with a massive 57 cubic feet of cargo space with the rear seats folded down.
Since charging is a crucial part of how well an EV can adapt to your lifestyle, the Chevrolet Bolt has made it both quick and convenient. You have a total of three charging options. The standard 120V cable included with the Bolt can be used to charge via a standard household outlet. You'll also receive a 240V fast charging cable for use at an optional home charging station or at a public charging network. This optional DC Fast Charge capability allows you to receive up to 100 miles of range in only 30 minutes of charging. Monitoring your efficiency is easy and effortless thanks to the myChevrolet Mobile App with Energy Assist feature.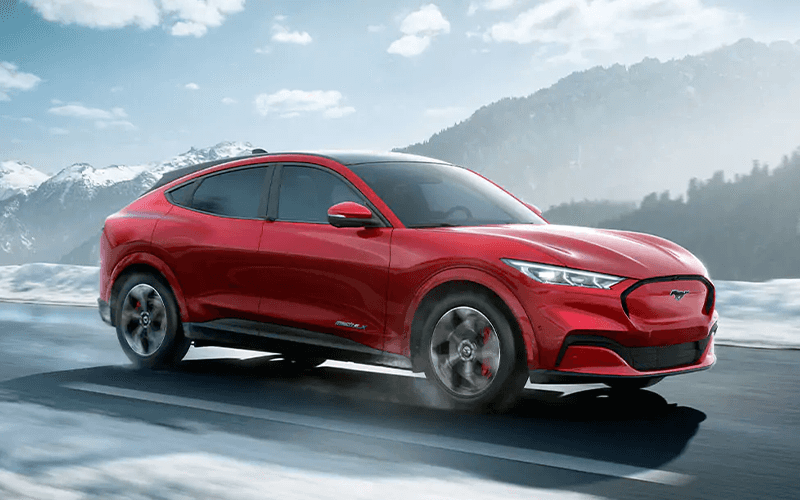 2022 Ford Mustang Mach-E
Starting at $43,895 MSRP*
Battery Range: Up to 314 Miles (estimated) | MPGe Combined: 100
Marking the beginning of a new chapter in the storied history of the Mustang nameplate, the Ford Mustang Mach-E combines the unbridled spirit of the Mustang with an exhilarating all-electric powertrain. Truly the new shape of freedom, this electric SUV packs a punch with a targeted 0-60 time in the mid-3-second range. Making no sacrifices on versatility, the Mach-E offers room for you and up to 4 passengers, a drainable front trunk storage spot, and an open-air cabin layout.
Infused with Mustang DNA, the Mustang Mach-E features design cues including a sloping fastback profile and sequential tri-bar turn signals. The standard mobile charge cord or Ford Connected Charge Station gives you peace of mind at home while DC fast charging capabilities help when you're on the go. Other innovative tech features found inside the Mach-E include a 15.5-inch center touchscreen, Ford Co-Pilot360™ safety innovations, and the groundbreaking Phone as a Key function. Combining passion with efficiency, the Ford Mustang Mach-E offers drivers a glimpse into the future of all-electric mobility.
2022 Ford F-150 Lightning
Starting at $39,974 MSRP*
Battery Range: Up to 230 Miles (estimated) | MPGe Combined: TBD
America's best-selling truck is now available as a high-performance electric workhorse. The Ford F-150 Lightning will change the way you think about trucks and EVs. It's incredibly capable, with a towing capacity of up to 10,000 pounds thanks to the incredible torque available from electric motors – 775 lb-ft, to be exact, along with 563 horsepower. The Lightning is a hard-working machine like any other truck, but with some exciting new features not seen anywhere else. The area normally reserved for the engine is now an additional covered storage area known as the "Mega Power Frunk." Best of all, in the event of a power outage, your F-150 Lightning can be used as a generator to power your home.
F-150 Lightning buyers won't have to sacrifice comfort and capability to go electric. Inside, it's the same comfortable F-150 cabin you've grown to love, and out back, you'll find the same cavernous pickup bed, with a payload rating of up to 2,079 pounds. In addition, a full line of trim levels is available, from the rough-and-ready Pro work truck to the luxury-appointed Platinum. An available extended-range model can boost range up to an EPA estimated 300 miles on a single charge.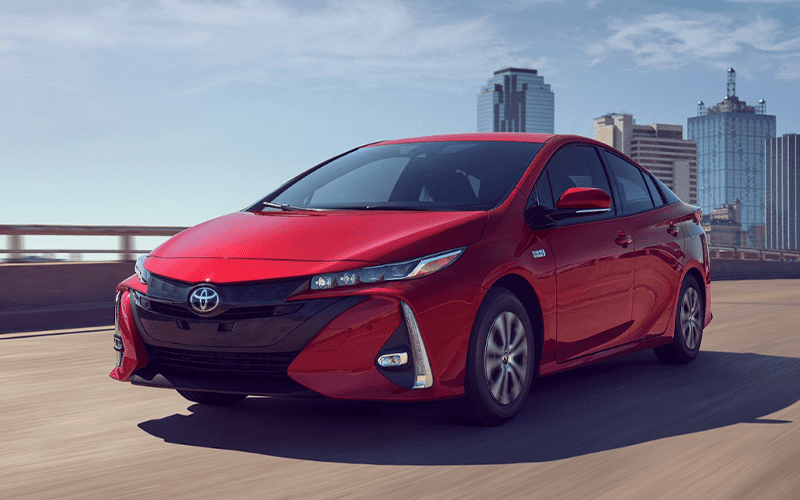 Toyota Prius Prime
Starting at $28,220 MSRP*
Battery Range: 25 Miles | MPGe Combined: 133
A new take on a familiar model, the dynamic Toyota Prius Prime takes the award-winning efficiency of the Prius family to a new level. In addition to a dedicated EV mode that offers up to 25 miles of pure electric driving range, the proven hybrid powertrain of the Prius Prime provides you with up to 640 miles of total driving range. Offering the best of both worlds, you'll have electrified efficiency around town along with the confidence to hit the highway for an extended road trip. Available Predictive Fuel-Efficient Drive helps increase fuel efficiency even further by intelligently learning your routine stopping patterns.
Technology remains a key strength of the Prius Prime inside the cabin. An optional 11.6-inch touch-screen display lets you connect your smartphone to enjoy all of your favorite apps and media on the way to your destination. For greater confidence behind the wheel, every Prius Prime comes standard with Toyota Safety Sense™ P (TSS-P), a collection of active driver-assistive safety features. Smart, stylish, and safe — the Toyota Prius Prime transforms the way you'll experience an electrified daily drive.
2022 Volkswagen ID.4
Starting at $40,760 MSRP*
Battery Range: 260 Miles | MPGe Combined: TBD
Volkswagen revolutionized personal transportation with the original Beetle. Now, they're doing it again with the all-new ID.4. The Volkswagen ID.4 features an efficient aerodynamic shape on the outside that allows for an efficient use of space inside. The surprisingly roomy ID.4 seats five adults in comfort, and has a maximum cargo capacity of 64.2 cubic feet. That's comparable to most average-sized crossovers. Volkswagen engineers paid close attention to passenger comfort when designing the ID.4, and its smooth, comfortable ride will please even the most discerning travelers.
A 10" touchscreen infotainment system is standard, with a 12" unit available as an optional upgrade. Both units feature navigation, voice control, and Apple CarPlay and Android Auto functionality as standard. Other impressive standard features include a panoramic glass sunroof, heated front seats, a mobile Wi-Fi hotspot, and the Volkswagen IQ.Drive® suite of driver assistance safety technologies. Despite riding like a luxury car and possessing many luxury car features, the Volkswagen ID.4 was designed to be priced well within reach of many consumers. It's sure to be a hit when it reaches our showroom later this year. Click the link below to learn more about the Volkswagen ID.4 and reserve yours at Basil Volkswagen of Lockport today!