The MyChevrolet App for your mobile devices.
Mobile phones have become an intricate part of our lives. We all have one and it never leaves our hands for the most part or even our sight for that matter. Car companies have recognized this and have asked themselves what they could do to make your life a bit easier. Chevrolet in particular decided to use a mobile app to help with that.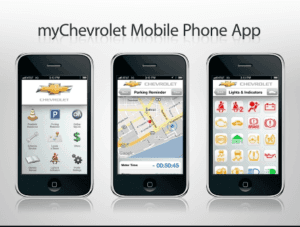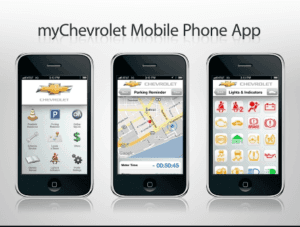 Everything you need for your car.
Behold the myChevrolet App, available from Google Play and Apple Store for free. It's the one stop shop for most of your needs when owning a Chevy. This mobile app gives you the ability to control features about your vehicle from lights and your horn to even checking how much air is in your tires. Now the app itself might be a bit confusing at first give that it is designed to keep you informed about your car and help you enjoy it even more. One such feature is it will tell you what places you can get your car serviced at around you making maintenance a breeze if you just need a quick oil change or even your tires rotated. Along with that when you are driving down the road if you have the app downloaded it will recommend places to eat where you can get a discount on food and even some retail stores will have exclusive offers for having the app.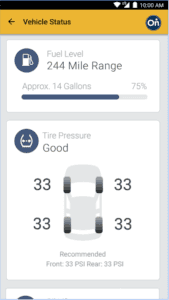 Letting you know what is needed.
Some of the other features it provides is advance diagnostics such as the distance you have till you are out of fuel, how much time till your next oil change, tire pressure readings and what your odometers are saying. That way you can make accurate decisions on what you need to do the next time you are driving around town. You can even schedule your next service appointment with the app. What it also offers is the ability to start your car and turn it off as well. Electric starts on your car remote are a thing of the past with this app installed. It even allows you to unlock your car so if you accidentally leave your keys in there grocery shopping you won't need to call triple A anymore. It also has your panic button installed on the actual app as well if you find that you need to ever use it after a Bills game trying to find your car. If that doesn't help it comes with a car location feature that will tell you the exact address of where your car is located in case you decided to park a couple blocks away from your actual destination. You also have the ability to send navigation to your car's GPS while you are having your morning coffee or heading out from the hotel on your trip across the United States. While you're on that trip you adjust your car's mobile hotspot by turning it on and off and making sure how much you have used so far. If you need to call for assistance on the road well you can do it right from the app as well, no needing to call and talk to anyone.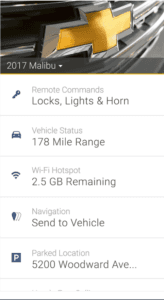 Shortcut menu to multiple features.
This app also holds and interactive owners manual for your car so if you ever need to find out something about your car you'll always have it in the palm of your hands. Honestly this app is just like your car remote but even more as well. You can use this to help make decisions about your car and have the luxury of remote starting your car in the morning when your are watching the news and drinking your first cup of coffee before work.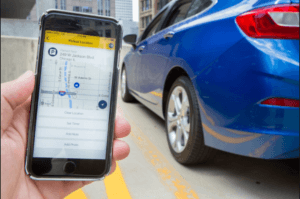 Get directions no matter where you are.
To download the free app from either the Google Play store or the Apple App Store.