Employee Spotlight: Aaron Miechurski
This installment of our Employee Spotlight, focuses on a dedicated team member from Basil Ford. Aaron Miechurski, our Service Concierge, has been a team member here at Basil for 4 years.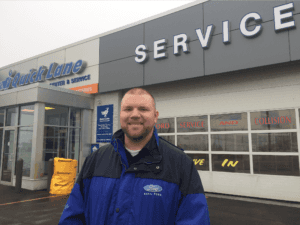 Earlier this year at our annual, Best of the Best, Basil Ford honored Aaron with the Unsung Hero Award. This award is given out to outstanding employees for their dedication to not only Basil, but to the community at large.
Here's what Bill Bohn, General Sales Manager, had to say about Aaron:
"This employee is being recognized for his contributions as an employee at the dealership as well as his contributions in our community. At work he is in the direct line of fire for every department, usually isn't for what went right – it's usually for what went wrong. How he handles it every day is incredible. His passion, his attitude, his work ethic, he will always go above and beyond. Not because he's told to but that's because how he does things.
The dealership was asked to assist in a community services program in 2017, for the developmentally disabled, not only did Aaron assist but he spent 1 day a week for 6 months, on his day off making this program come together, and because of that and everything he's accomplished at the dealership, we would like to recognize Aaron."
We thank you Aaron for all your hard work and dedication!