Joe Basil Chevrolet Wins Dealer of the Year Award, 10th Consecutive Year
Joe Basil Chevrolet has just received the prestigious General Motors Dealer of the Year Award for their 10th consecutive year, ending December 2017. This is truly a rare achievement, as this award goes to the top 2% of Chevrolet over 3,000 dealers in the country based on sales and customer service satisfaction. Joe Basil Chevrolet is the longest running Dealer of the Year in Western New York.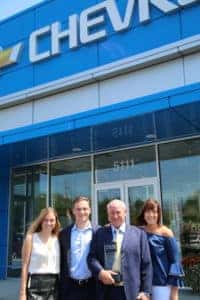 Joe Basil Chevrolet wins Dealer of the Year Award
Starting in 1984 with 9 employees, Jim Basil, Dealer and President, credits his staff of nearly 300 members for this truly outstanding achievement. He states, "You can buy a Chevrolet at 12 other Chevrolet Dealers in Western New York, you can only buy a Joe Basil Chevrolet at one place. Our employees are what makes the difference."
Joe Basil Chevrolet is also ranked the #1 sales volume dealership of any make or model in Western New York for the 3rd consecutive year, with record sales of over 6,600 vehicles in 2017! Their commercial vehicle sales division consecutively ranks #1 in the state for 2017 as well, and the dealership is well on their way to perform this accomplishment again in 2018.
"This is an accomplishment reserved for only a select few outstanding Chevrolet, Buick, GMC and Cadillac dealerships and is a symbol of exceptional performance in delivering superior customer service while consistently growing sales," said Mark Reuss, president, GM North America.