Wondering what to bring when buying a car? What if you're gearing up to sign a lease? When you show up to your local dealership here in Western New York with all of the necessary documents, you'll be in a better position to get the price you want and get back on the road. Drivers in cities like Buffalo, Depew, Niagara Falls, Lockport, and Orchard Park can benefit from having all the information necessary to have a smooth car-buying or leasing experience.
Whether you decide to buy or lease a car, you'll need to bring:
Necessary Documents
A current, valid driver's license
Proof of insurance
Trade-in vehicle title and registration
Recommended Documents
At least two recent pay stubs
Proof of residency
Professional and personal references
If you're not valuing a trade-in with us, you can leave your current title and registration at home. Our recommended documents are especially useful if you've struggled with bad credit or no credit in the past, as they give the seller a better idea of what you can afford.
Want to speed up the buying or leasing process? Before you gather up all the documents you need to bring, get your 11-Minute Quote.
What to Bring When Buying a Car: Frequently Asked Questions
If you still have questions about what to bring when buying a car, start by consulting our FAQs. As always, you should always feel free to reach out to your local Basil finance department.
What Should I Bring if I'm Taking a Test Drive?
If you're taking a test drive, you only need to have your driver's license on hand. Nothing else is required unless you're going to move forward with your purchase, but we recommend that you have everything you could need on hand.
Why Do I Need Proof of Insurance?
Several different types of insurance are required by law in most states, including New York. A dealership that sells to drivers without insurance is creating a significant liability.
Unless you're buying your first vehicle ever, there's a strong chance that you already have everything you need. Just bring your current card, and remember to register the new vehicle with your insurer as soon as the purchase goes through.
My Credit Score is Fine. Should I Still Bring My Pay Stubs?
A source of financing may still ask you for your recent paystubs, even if your credit shows you're not a major risk. Having them with you in the moment shows that you know how to plan ahead, and if you make much more than you'd need to pay, you might be able to get a better rate.
Why Would I Need Proof of Residence or References?
Proving that you live in the area makes you less of a financial risk for the lender or the seller. A recent utility bill or two will be sufficient. References also help to prove that you're reliable, so having these on hand is similar to having a co-signer.
What To Bring When Buying a Car: Related Questions and Next Steps
How Do I Buy a Car?
Search local inventories near Lancaster and Lockport, or use our vehicle finder service to find a model that satisfies all your needs. Test drive your favorite options and apply for financing online to get pre-approved for your purchase.
How Do I Lease a Car?
Leasing can be even simpler. Just drive into a dealership, explore available models, and sign a contract on the one that stands out! When the contract is over, you can buy the vehicle, or sign a new contract at our dealership.
Should I Add an Extended Warranty or Other Options?
Our finance team will walk you through all your options when you're getting ready to buy. Different options will make more or less financial sense for each driver, but you can use our car payment calculator to figure out how much you can afford to spend.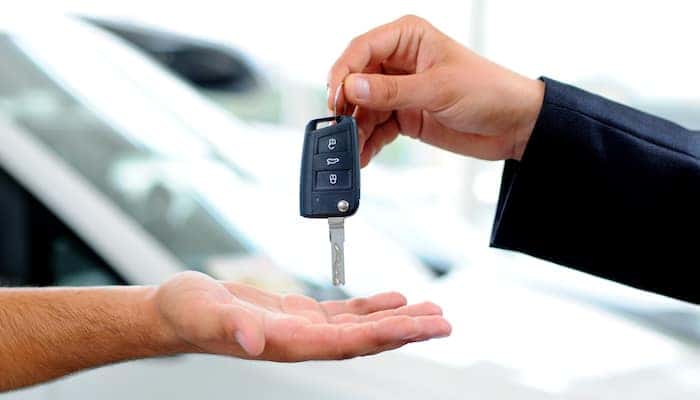 Drive with Basil Family Dealerships
You now know exactly what to bring when buying a car. Put that confidence to use at your local Basil Family Dealerships dealership. Explore our new model inventory, or check out our great selection of used cars for sale in WNY today!