The Basil Family Dealerships have been part of the WNY community for more than 65 years, and with four long-standing locations in Buffalo, we're in a great position to show you around. Whether you're looking for the best restaurants in Buffalo, NY or things to do after your meal, you'll find so much to get excited about when you explore the city with Basil.
Where Can I Find the Best Food in Buffalo, NY?
Bacchus Wine Bar & Restaurant
56 W Chippewa Street, Buffalo, NY
There's no way around it: Bacchus Wine Bar & Restaurant is one of the trendiest places to eat in town. After all, who wouldn't want to pair their favorite red or white with some of the best food in Buffalo, NY? Whether you order the steak and eggs or treat yourself to the tuna tartar, you're sure to love the time spent inside this elegant, welcoming venue.
Liberty Hound
1 Naval Park Cove, Buffalo, NY
The waterfront restaurants in Buffalo, NY are only growing in popularity, and Liberty Hound is one of the premier options among them! This appropriately-themed lakeside restaurant offers some of the tastiest seafood and sandwiches you'll find in New York, and their specialty "Rhum cocktails" go great with just about anything.
The Black Sheep
367 Connecticut Street, Buffalo, NY
Are you a fan of farm-to-table cuisine?
The Black Sheep
proves that Western New York knows exactly how to serve up fresh, sustainably-sourced food. Whether you're a lifelong vegetarian or a dedicated connoisseur of locally-sourced meats, you'll agree that The Black Sheep stands out. Even their cocktails are made with the same fresh ingredients and stunning attention to detail.
McPartlan's Corner, Inc.
669 Wehrle Drive, Buffalo, NY
For more than 50 years, McPartlin's has been serving up some of the best Irish food and fried fish that you can find in Western New York! Everything on the menu is made to perfection, so you're sure to leave with a smile on your face. Try the clam chowder, the wings, or the artichoke hearts au gratin!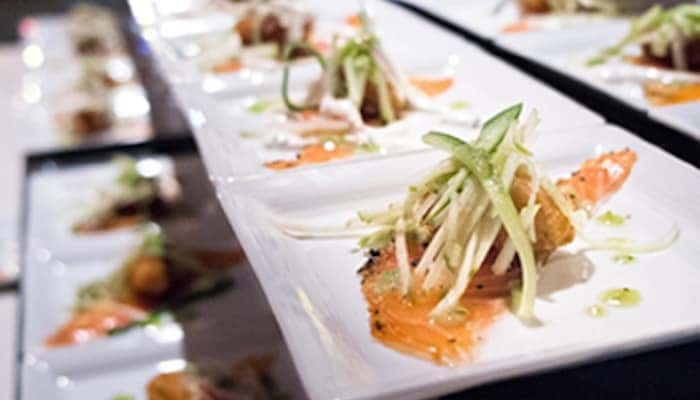 Image courtesy of Bacchus Wine Bar & Restaurant
Thin Man Brewery
492 Elmwood Avenue, Buffalo, NY
If you hear the word "brunch," your thoughts may drift to images of mimosas and egg scrambles. Well, the Thin Man Brewery does things a little differently! If you've been looking for a heartier brunch, you'll find Thin Man to be one of the best restaurants in Buffalo, NY. Come for the nachos, the burgers, or the fresh-seared ahi tuna. No matter which route you take, we think you'll fall in love.
With a full selection of sumptuous light and dark beers brewed on-site and served by the tap, washing your meal down might just be the best part of your day.
Trust Us to Show You the Best Places to Eat in Buffalo, NY
If you're searching for the top restaurants near Buffalo, NY, you could browse anonymous reviews online. However, we think you'll be better served by asking one of the friendly faces on our team! We get to hear from drivers from every corner of the city, and since we never miss an opportunity to build relationships, we're always hearing about new and exciting places to eat in Buffalo, NY.
Explore WNY with Basil Family Dealerships
The Basil Family Dealerships are proud to be trusted local guides! Whether you're visiting Buffalo from Lancaster or taking a trip out to Niagara Falls, we can help to make it a whole lot easier and more rewarding. After you've tried out some of the best places to eat in Buffalo, NY, why don't you explore some of the best things to do nearby?
If you enjoyed any of our recommendations or have one of your own to share, don't hesitate to let us know!